Introduction
As the world changed in front of our eyes in 2020, the events we attended and organized shifted online. However, this year Great Place to Work®, the global authority on workplace culture, will be hosting the Best Workplaces for Women in Greater China™ Awards Ceremony 2021 event LIVE. We all missed the physical and face-to-face powerful communication and connections that are typical of a live event. So, by taking into consideration some safety measures and size concerns, we decided to bring you this new, cosy experience to celebrate our first Best Workplaces for Women in Greater China™ Awards Ceremony.
The event aims to honour, celebrate and invite award-winning organizations from different industries to share insights and practices on how to foster and sustain a truly equal and inclusive workplace culture while building GREAT WORKPLACES FOR ALL.
Also, there will be a panel discussion, we will be inviting representatives of local enterprises and award-winning organizations to share and discuss some of the action to promote gender equality and how we can build a positive employee experience for all.
Join us on 13 May 2021 for the panel discussion of the above-mentioned topics to learn from your peers and industry thought leaders. Celebrate with us as we unveil the Best Workplaces for Women in Greater China™ 2021 list.
Date: 13th May, 2021
Time: 2pm – 5:00pm
Venue : 27F, Infinitus Tower No. 168 Hubin Road, Huangpu District Shanghai 200021, China
Tentative Agenda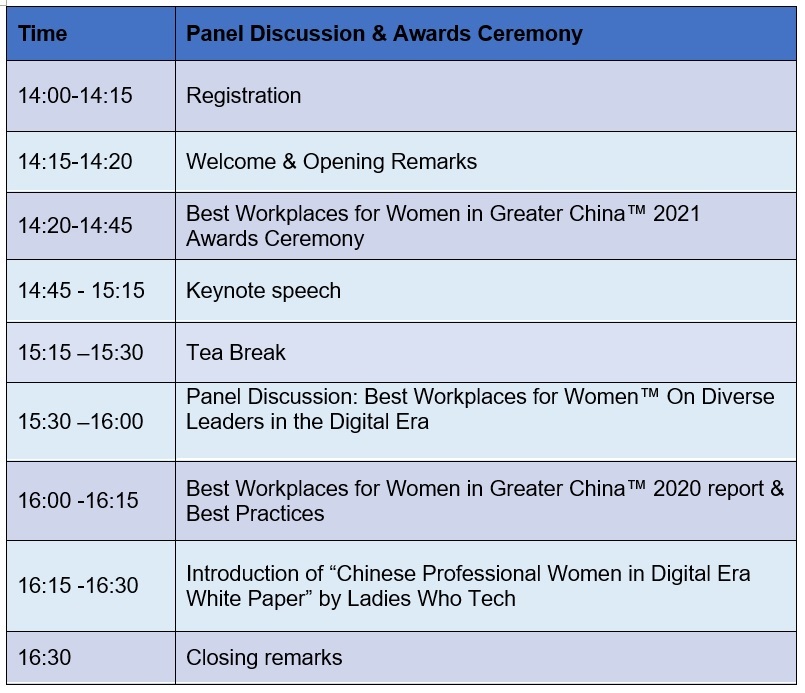 Great Place to Work is the global authority on high-trust, high-performance workplace cultures that provides executive advisory and culture consulting services to businesses, non-profits, and government agencies in more than 60 countries across five continents. Through proprietary assessment tools, benchmarks and certification programs, Great Place to Work provides the expertise needed to create, sustain, and recognise outstanding workplace cultures. The Institute works with media throughout the world to select lists of Best Workplaces. In Greater China, we partner with Bloomberg Businessweek/China and Classified Post to publish the 'Best Workplaces ™' list. In the US, we work with Fortune Magazine to publish the '100 Best Companies to Work For®' list.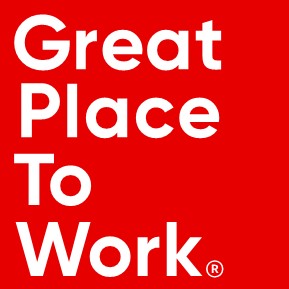 http://www.greatplacetowork.cn/  | https://www.greatplacetowork.com.hk/

Facebook: #GreatPlaceToWorkGreaterChina

Twitter: @GPTW_China

Linkedin: # Great Place to Work® Greater China

WeChat ID: greatplacetowork
Official News Distribution Partner

PR Newswire, a Cision company, is the premier global provider of media monitoring platforms and news distribution services that marketers, corporate communicators and investor relations professionals leverage to engage key audiences. Having pioneered the commercial news distribution industry since 1954, PR Newswire today provides end-to-end solutions to produce, distribute, target and measure text and multimedia content across traditional, digital, mobile and social channels. Combining the world's largest multi-channel content distribution and optimization network with comprehensive workflow tools and platforms, PR Newswire powers the stories of organizations around the world. PR Newswire serves tens of thousands of clients from offices in the Americas, Europe, Middle East, Africa and Asia-Pacific regions.

Bloomberg Businessweek/China (BBWC) is a business publication with an international copyright authorized by GAPP. BBWC is jointly published and operated by Bloomberg L.P., China Commerce and Trade Press, and Modern Media Group. The magazine is produced by an experienced editorial team based in China, along with award-winning media professionals at Bloomberg Media. Bloomberg's creativity and brand influence sharpens BBWC and makes it the comprehensive business authority for business leaders of the new economy. Operated within China, BBWC is in tune with the social and economic trends of the country while providing readers with competitive global insights for smarter, faster and more informed business decisions. As a strong brand it also aims to be a thought leader in Chinese business and prepare readers for the future business landscape via its original ideas and bold design. Since the revised version came back to the market in 2011, BBWC has been the market leader and widely acclaimed by experts and decision-makers from various fields in China. www.bloomberg.com/businessweek
*PRnewswire is the official news distribution partner for the event.