Best Workplaces for Women in Greater China™ 2021 Awards Ceremony 
ended with a big success 
Great Place to Work® Institute organized its Best Workplaces for Women in Greater China

™ 2021 Awards Ceremony on 13th May 2021, at AmCham's office in Xintiandi, Shanghai. The event was presented in two forms, namely the awards ceremony and the panel discussion.  Nearly 100 people gathered at the event and enjoyed discussions on topics related to "equality and inclusion & diversity in the workplace".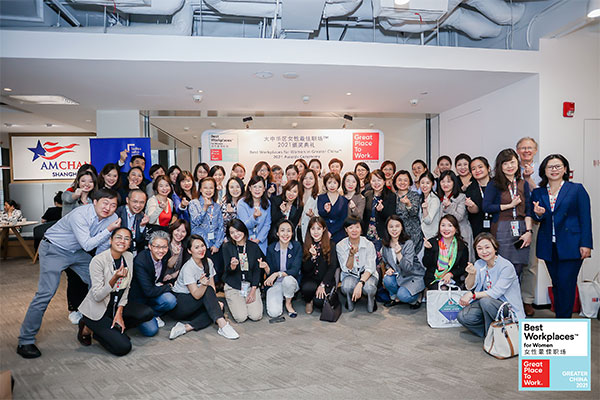 (A group photo was taken at the event of the "Best Workplaces for Women in Greater China™ 2021 Awards Ceremony".)
The event began with the host, Ms. Alicia Tung, COO Great Place to Work® Greater China, unveiling the winners of the "Best Workplaces for Women in Greater China™ 2021".  The data used to determine the awardees were drawn from the submissions surveys collected from the employee of the various participating companies. Eleven companies of different sizes and from a diverse range of industries were awarded as Best Workplaces for Women in the Greater China

™ region. These awardees share common goals in taking action to support equality, diversity & inclusion in their workplaces.  During the awards presentations, the representatives of the award-winning companies also shared more insights to the audience, which encouraged the guests who came to attend the event. We want to wish a big congratulations to the award-winning organizations that have done their jobs by going the extra mile in earning this proud recognition.
(Some of the award-winning organizations at the awards ceremony) 
The Best Workplaces for Women in Greater China™ 2021 award-winning companies have selflessly shared their experiences in creating workplaces centered around equality. This includes the company's policy and ideas of gender equality in the workplace, and the continuous introduction of support policies and care projects for female employees, as well as improvement by truly listening to the voices of employees.  The speaker of the award-winning organization affirmed the importance of the award and pointed out that an equal and inclusive workplace can help the company by attracting and retaining talents.
The awardees expressed their joy of winning and among them, there are companies that have won several consecutive awards. These organizations have expressed their interest in continuous participation in the award in the future. 
In addition, Ms. Alicia Tung, representative of Great Place to Work® Institute, announced the "Best Workplace for Women in Greater China

™ Report 2020″ for the first time. The report is based on the data of the employees of the companies that participated in the award, and through data analysis, it identifies the outstanding characteristics of the award-winning companies that are different from others.  One of the important characteristics is fairness. "In the 2020 Best Workplaces for Women in Greater China™, more than 91% of female employees believe that they are treated fairly, compared to 50% in other workplaces." The practical execution of gender equality in the workplace is an important part of creating equality, diversity & inclusion in the workplace. The report also focused on analyzing how the award-winning companies from the Best Workplaces for Women in Greater China™ offer solutions to promote diverse workplace cultures that results in the building of equal, positive and inclusive teams.   
In order to offer more diverse workplace culture practices from the award-winning companies, Great Place to Work® Institute was delighted to invite the Vice President of Human Resources Greater China & Mongolia at Hilton, Ms. Christine Wang, to share the keynote speech "Diversity and Inclusiveness are Hilton's DNA".  Hilton is indeed a company that is best represented in this theme. Over the past 12 months, the company has won the "Best Workplace in Greater China

™ 2020″, the "LEGENDS of Best Workplaces in Greater China™ 2020", and the "Best Workplaces for Women in Greater China™ 2021", giving them the unofficial title of "Three-Winners".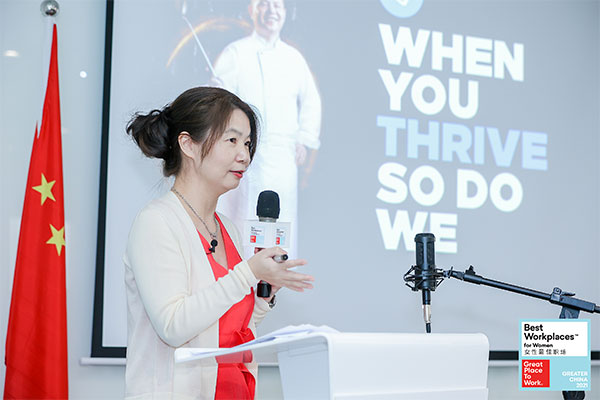 ( Ms. Christine Wang, Vice President of Human Resources for Greater China and Mongolia, Hilton, presenting the keynote speech.) 
In the keynote speech, Ms. Wang explained to everyone how Hilton creates an inclusive global team culture and workplace experience. She shared that "Hilton takes its employees seriously and allows them to work happily every day, because Hilton believes that only when employees are happy, they will then provide the same service to customers and make these customers happy. Therefore, Hilton supports employees to do what they like during their breaktime and makes them feel comfortable and happy. This is Hilton's commitment to its talent."
This was followed by a panel discussion on "

Best Workplaces for Women™ On Diverse Leaders in the Digital Era

", which proved to be one of the most popular sessions among the guests. The discussion invited four speakers who are experienced in creating inclusive workplace cultures at their respective workplaces – Mr. Gordon Xing, Associate Vice President of Human Resources, Agilent Technologies; Ms. Ellen Wu, Human Resources Director, Asia Research Development, Microsoft; Ms. Stella Chang, DDI Strategy Consultant, Greater China; Ms. Angela Chen, HR Director, HR Total Rewards Greater China, SAP.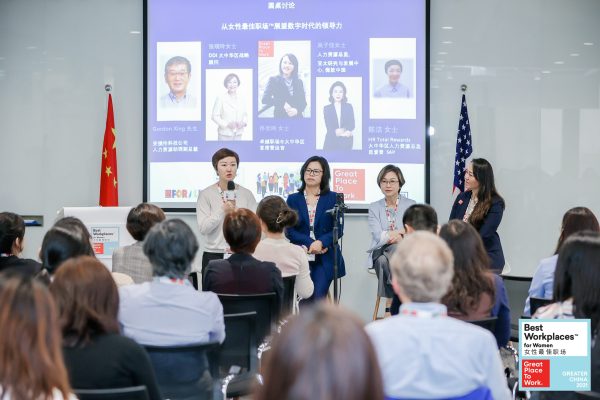 ( Panel Discussion from left to right: Ms. Angela Chen: HR Director, HR Total Rewards Greater China – SAP; Ms. Ellen Wu: Human Resources Director, Asia Research Development, Microsoft; Ms. Stella Chang: DDI Strategy Consultant, Greater China; Ms. Alicia Tung: COO, Great Place to Work® Greater China; and Mr. Gordon Xing: Associate Vice President of Human Resources, Agilent Technologies, joined in through an online call.)
Ms. Alicia Tung opened the discussion with a review of the current market, where many companies are unable to create a more inclusive and representative working environment, and invited speakers to share their suggestions for starting or implementing related programs for these companies. Speakers also shared both their personal experiences and unique insights in the discussion.
Ms. Chang explained that the data DDI collected in 2018 showed that only 22% of executives in its surveyed companies were women. A major reason for this phenomenon is that there are still stereotypes of gender in the workplace culture of some companies. Therefore, companies need to help female leaders promote their talents and abilities and reduce or even eliminate the phenomenon of making decisions based on gender stereotypes instead of employee abilities.
Ms. Ellen Wu suggested that before implementing any initiatives regarding inclusive workplace culture, we should first ask ourselves "Why are we doing this?" In fact, workplaces should actively promote diversity and inclusion policies that are not only good for women but also good for men. In many cases, people assume that only female employees need to take time off to take care of their families and children. In reality, many male employees also shoulder the same responsibilities and therefore need the support of relevant corporate policies.
Ms. Angela Chen also shared how to promote and create a more gender-inclusive culture. For example, in response to the general phenomenon of more men and fewer women in the information technology industry, SAP cooperates with universities to target women who study software engineering. In addition, SAP is dedicated to helping autism. SAP launched the "Autism from Youth" program, designed simple computer courses, and taught interactively with autistic children. This helps them to make professional progress and also enables SAP employees to feel proud of their contribution.
After hearing the opinions from female leaders, there was also a male speaker, Mr. Gordon Xing, who shared his insights through an online call. He explained "as an organization, we also have a responsibility to promote a culture of gender inclusiveness. Agilent Technologies Global HR has a dedicated team responsible for D&I. The company also has various cultural evaluation programs such as an annual global leadership survey and research program. And also provides training courses for employees on the topic of unconscious bias, which reduces unconscious prejudice caused by gender stereotypes in the workplace.
Ms. Alicia Tung concluded the topic by stating, "The epidemic has accelerated digitalization, and it has also accelerated the entry of the next generation of young people in our society into the digital era". In this context, what are the benefits of companies emphasizing inclusion & diversity for the experience of the younger generation employees?
Ms. Stella Chang also offered suggestions. "Today we don't need more leaders, we need more leadership. Nowadays, an organization must have an established D&I policy in place when hiring employees. Happy employees lead to a well-performing company.

This can also be applied to female employees. The company should provide female employees, especially female executives, with some psychological support to help them change their thinking, break through themselves, and better deal with workplace challenges. "
Ms. Ellen Wu added, "Diversity is a fact, and workplace inclusiveness is an attitude." At Microsoft China, various policies support workplace inclusiveness. For example, employees can work flexibly after giving birth and work in their own city. An exclusive community has been established for employees with children to exchange ideas and share parenting experiences together."
Ms. Angela Chen commented, "Nowadays, the division of gender boundaries in society has gradually become blurred. For example, the phenomenon of "men dominating outside and women dominating in the family" is no longer widely experienced in the family setting, and the same is true in the company setting. Under this circumstance, not only should companies offer more support and flexibility to female executives, but female executives themselves shall overcome self-imposed limitations,
believing that they have unlimited possibilities, and able to achieve higher."
Mr. Gordon Xing put forward his own opinions. "In today's society, various companies have sprung up like mushrooms and, as such, the younger generation now has more choices. If an enterprise wants to gain a place in the market in the era like "tens of thousands of horses", what it needs is an innovative spirit that conforms to the times. For example, Agilent Technologies has a project to support women becoming scientists, so that women's scientific and technological dreams can be developed."
Ms. Alicia Tung concluded that with the declining global birth rate, talents are harder to acquire. As such, corporate leaders are more willing to recruit high-efficiency talents. The ever-changing digital age requires our flexibility and resilience, which can only be realized by creating and implementing sound policies of inclusion & diversity. By supporting "equality & diversity in the workplace" with real actions, organizations can attract and retain a variety of talents.

(From left to right: The Co-Founders of Ladies Who Tech: Ms. Jill Tang and Ms. Charlene Liu, presenting  a white paper preview)
Lastly, the Co-Founders of Ladies Who Tech, Ms. Jill Tang and Ms. Charlene Liu, presented an introduction to their upcoming "Chinese Professional Women in the Digital Era" white paper. The white paper will draw on the experiences of Chinese women that works in the digital economy and the research will focus on different regions, career stages, and types of organizations covering the future trend in technology development.
The response to this event was truly amazing, and the feedback from the guests made the people feel that, despite the market turmoil brought about by the global epidemic, many companies are still committed to the "people-oriented" concept. These companies are consistently maintaining the spirit of caring for their employees while continuing to create equality, diversity, and integration in the workplace. They are all models of the industry and are encouraging and guiding more companies to jointly build an equal, positive and inclusive workplace culture.
After the event, the guests expressed their impressions of the event and hoped that more special events will be held in the future where the Best Workplaces™ award-winning companies participate in discussions. Great Place to Work® Institute will actively listen to the opinions of all parties and share upcoming event information in a timely manner.
In the fourth quarter of 2021, Great Place to Work® Institute will host the Greater China Annual Conference and the Best Workplaces Greater China

™ 2021 Awards Ceremony, so stay tuned.

 
Best Workplaces for Women in Greater China™ 2021
The list is published in alphabetical order 
American Express
DHL Express Hong Kong
Hilton
Kimberly-Clark (China) Co., Ltd.
Mastercard
PayPal
SAP, Greater China
S.C. Johnson
Teleperformance China
Unity
Wyeth Nutrition (China) Co., Ltd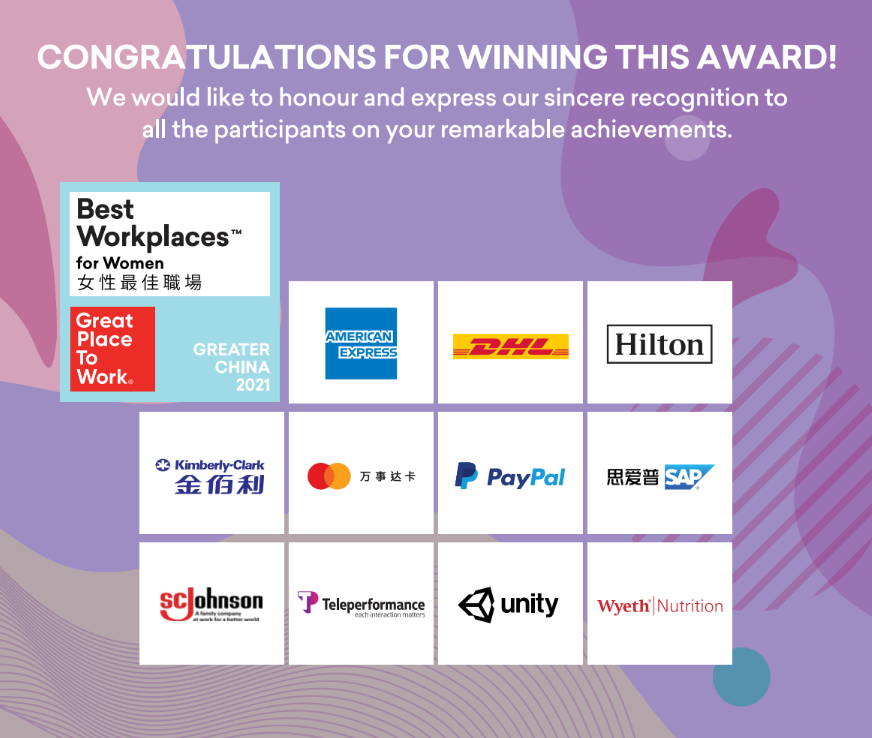 Great Place to Work is the global authority on high-trust, high-performance workplace cultures that provides executive advisory and culture consulting services to businesses, non-profits, and government agencies in more than 90 countries across five continents. Through proprietary assessment tools, benchmarks and certification programs, Great Place to Work provides the expertise needed to create, sustain, and recognise outstanding workplace cultures. The Institute works with media throughout the world to select lists of Best Workplaces. In Greater China, we partner with Bloomberg Businessweek/China and Classified Post to publish the 'Best Workplaces ™' list. In the US, we work with Fortune Magazine to publish the '100 Best Companies to Work For®' list.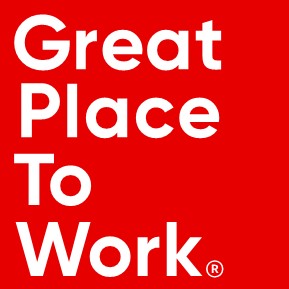 http://www.greatplacetowork.cn/  | https://www.greatplacetowork.com.hk/

Facebook: #GreatPlaceToWorkGreaterChina

Twitter: @GPTW_China

Linkedin: # Great Place to Work® Greater China

WeChat ID: greatplacetowork
Official News Distribution Partner

PR Newswire, a Cision company, is the premier global provider of media monitoring platforms and news distribution services that marketers, corporate communicators and investor relations professionals leverage to engage key audiences. Having pioneered the commercial news distribution industry since 1954, PR Newswire today provides end-to-end solutions to produce, distribute, target and measure text and multimedia content across traditional, digital, mobile and social channels. Combining the world's largest multi-channel content distribution and optimization network with comprehensive workflow tools and platforms, PR Newswire powers the stories of organizations around the world. PR Newswire serves tens of thousands of clients from offices in the Americas, Europe, Middle East, Africa and Asia-Pacific regions.

Bloomberg Businessweek/China (BBWC) is a business publication with an international copyright authorized by GAPP. BBWC is jointly published and operated by Bloomberg L.P., China Commerce and Trade Press, and Modern Media Group. The magazine is produced by an experienced editorial team based in China, along with award-winning media professionals at Bloomberg Media. Bloomberg's creativity and brand influence sharpens BBWC and makes it the comprehensive business authority for business leaders of the new economy. Operated within China, BBWC is in tune with the social and economic trends of the country while providing readers with competitive global insights for smarter, faster and more informed business decisions. As a strong brand it also aims to be a thought leader in Chinese business and prepare readers for the future business landscape via its original ideas and bold design. Since the revised version came back to the market in 2011, BBWC has been the market leader and widely acclaimed by experts and decision-makers from various fields in China. www.bloomberg.com/businessweek
*PRnewswire is the official news distribution partner for the event.