This seminal book explores the concept of a great workplace and answers the fundamental question: What is the business value of creating a great workplace? How do you build it? How do you keep it?  Why does it matter?
The book provides practical tips for organisation leaders and brings the definition of a great workplace alive with anecdotes, best practices and quotations from employees working at some of the world's best workplaces, including Google, Microsoft, Marriott International, FedEx, NetApp, Deloitte, and more.
WHAT SEPARATES A GREAT COMPANY FROM A MERELY GOOD ONE?
Great Place to Work® Institute insiders Jennifer Robin and Michael Burchell explore the concept of a great workplace. They demonstrate that, more than offering great pay and quirky perks, a great workplace is one where employees trust the people they work for, take pride in what they do, and enjoy the people they work with. Drawing on decades of Great Place to Work research, the authors explain how leaders and managers can create and reinforce the core values of trust, pride, and camaraderie with every communication, every decision, and every interaction. If your company is struggling with the challenges of leveraging human capital, discover why some organisations have what it takes to be great—and what your company can learn from them.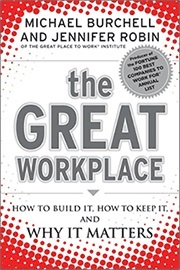 Adrian Gostick
New York Times bestselling author
"Important and thoroughly convincing! The Great Workplace shows the way for organisations to get from Good to Great. If you've ever wanted to be on the FORTUNE 100 Best Companies to Work For Annual List, or simply want to know why some companies excel and others don't, grab your highlighter and dig in."
Jeffrey Pfeffer
professor, Stanford Graduate School of Business
"The best places to work outperform their competitors in every country and in every industry. The Great Workplace shows how these companies do it and provides practical advice on how you too can make your company a great place to work. No more excuses not to turn this timely knowledge into action."
Chris Van Gorder
president and CEO, Scripps Health
"Like a customised GPS, The Great Workplace will help your organisation navigate its way toward being an exemplary workplace—and steer clear of the bumps, wrong turns, and dead ends along the way. Filled with data-based findings, practical examples, and innovative ideas, this book will prepare and motivate your team for the journey that is to come."
Ian T. Clark
CEO, Genentech
"Informative and full of useful advice. The authors' recommendations may call for hard work, but for those who persevere and see them through, the outcome is well worth the effort."