In recent months, we've talked a lot about how COVID-19 is affecting companies and teams around the world, and how the Best Workplaces™ are responding. We've touched on supporting employees' mental health, keeping remote teams engaged, helping telecommuting parents manage their unique situation and more.
It would be easy to look at our COVID-19 resource hub and think that the only things that a company can do during this time are about survival — minimizing negative effects of the pandemic and living to fight another day.
While it's true that some companies are still figuring out how to keep the lights on, the reality is that now is also a time to invest in the future of your organization.
Certification™ by Great Place to Work® is a powerful way to give your people something to celebrate while helping you attract and retain the best talent.
Here are just a few ways your company can benefit from Certification:
1. There has never been a more critical time to find out what your people are thinking
In 2020, it's become clear that we have to come to terms with things as they are now. You should assume your understanding about what your company, people and customers want, need and how they behave has changed in the new normal.
The best way to find out what they're thinking? Our Trust Index employee survey, the first step in earning Certification.
There are real costs to waiting until things get better to listen to your people:
You lose out on key insights about what matters most to your people now
You become blind to how employee needs are changing in response to crisis
Your best people might not wait around for you to ask later–they'll find a company where leaders care now
By giving employees opportunities to express their experiences and questions on the survey, leaders provide a sense of ownership and influence during changes, greatly lowering employee stress and fear.
In addition, it unlocks a rich source of ideas and solutions for managing change.
Your people are the key to unlocking the ideas that have the potential to transform your business, culture and beyond.
Look no further than Wegmans and employee Jody Wood. She had been searching for healthy food options for her husband, who has type 2 diabetes. She discovered cauliflower rice and pushed for Wegmans to start carrying it.
Today, Wegmans not only sells cauliflower rice, they've rolled out their own Wegmans-branded version — all stemming from a single employee suggestion based on Jody's experience searching for healthy food in her own life.
Transformative ideas like this are hiding in plain sight, even in the middle of a crisis.  You will only discover them if you seek them out.
2.  Great Place to Work Certification signals that you are truly a people-first organization
Many companies say they put their people first, regardless of whether or not their actions actually back up their claim.
So how do customers and job seekers know which companies really care for their employees?
That's where Certification comes in. It's not something companies can fabricate. It's not anecdotal. It's a trusted stamp of approval, backed by quantitative and qualitative data from real employee survey responses.
It shows potential job seekers and others that you truly care about your employees' experience and are committed to building and maintaining a high-trust company culture.
Best Workplaces like Stryker, Target and EY have been vocal about the importance of being people-first during COVID-19. How companies treat their workers during this pandemic could go on to define their brand for decades.
Now is the perfect time to show your commitment to being a people-first organization — and to shout it from the rooftops.
3. Certification builds trust, camaraderie and pride at a time when your employees need it most
We are all searching for things to celebrate these days. Earning Certification is good news that your whole team can celebrate together.
Certified company ALKU used the announcement as an opportunity to recognize the accomplishments of 10 star employees. Their people enjoyed a private acoustic concert, mixology class, and games, via Zoom.
Canvas Credit Union just celebrated getting Certified™ with a virtual party. An MC hosted the Zoom party along with a magician, prizes and food throughout the day.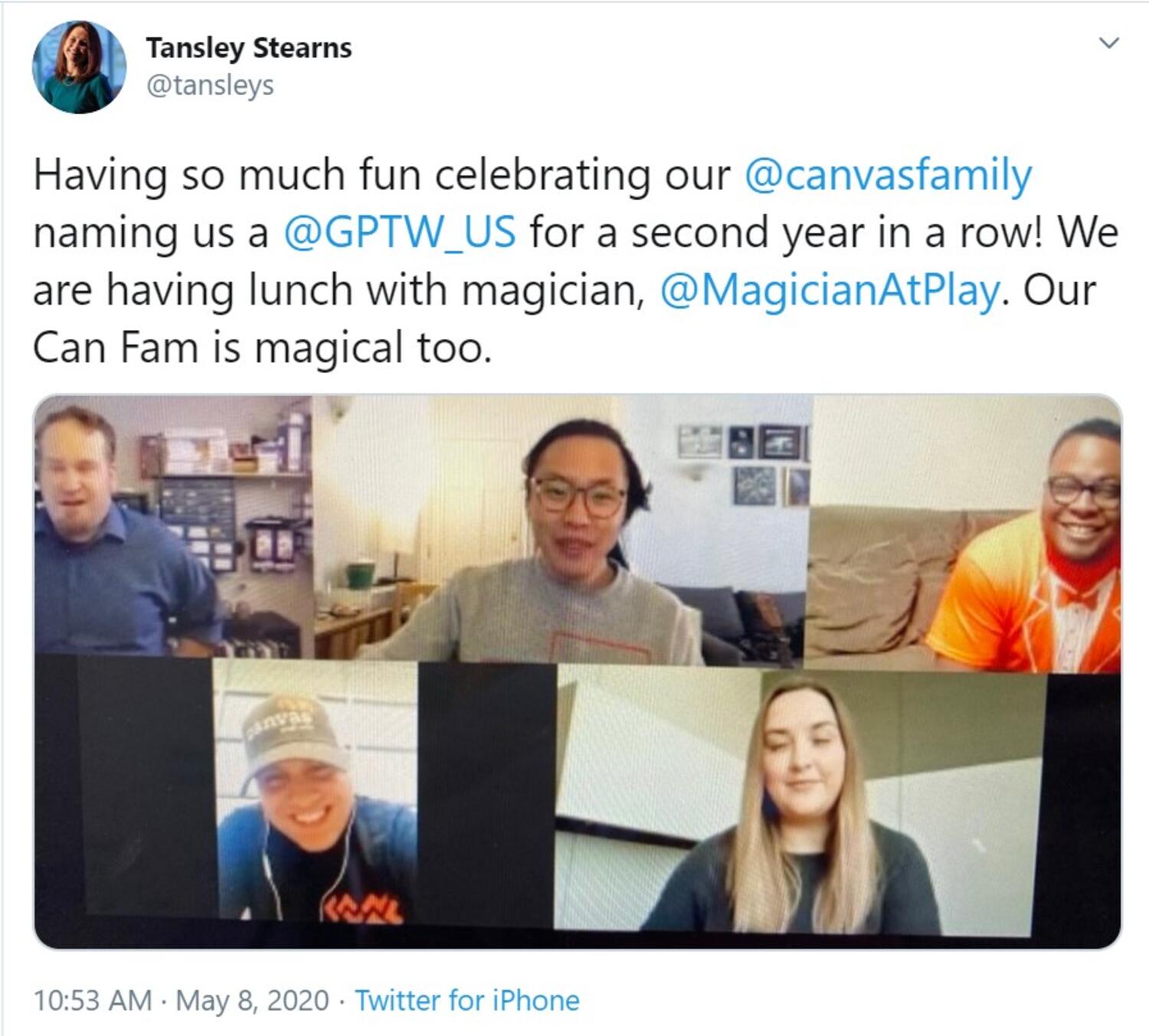 Now, amid the stress and anxiety of the pandemic, it's more important than ever to recognize and build up your people.
4. Certification tells employees that you care about them and their future
To follow leaders, particularly through challenging times, people must believe they can rely on their leaders to deliver on promises and match actions to words. They fundamentally need to believe that their leaders care for them and their future.
Getting Certified sends a clear message to employees that you care about their experience and their well-being. And when people feel like their company invests in them, they'll put in their best for their company.
Certification gives you and your employees another opportunity to smile and celebrate one another when those moments are harder to come by. To join the thousands of companies that have committed to building high-trust company cultures that help them attract, retain and take care of their people, contact us about getting Certified today.