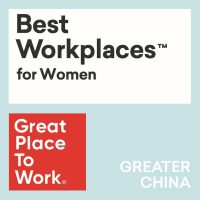 Want to see your company as the Best Workplace for Women™
What Makes a Great Workplace for Women
In researching the of Best Workplaces for Women™, Great Place to Work® uncovered important gaps in how women and men feel about their careers, as well as encouraging factors that can improve the well beings of all employees.
Best Workplaces for Women™ is a accreditation standard which recognizes those top organizations that, while providing a great work environment to all employees, are also creating positive and supportive workplaces for women in particular developing and promoting practices that make sure women in the workplace have a fair and positive work experience, and have the opportunity to contribute to the success of the business while they develop their talents personally and professionally. 
Great workplaces make women feel welcome 
When women felt their work made a difference, they were five times more likely to say they have a great workplace and six times more likely to want to stay with their companies for a long time.    
If women experienced workplace traits that encourage innovation, they were seven times more likely to plan a long-term future at their companies.    
When women said their organizations handle promotions fairly, they were two times more likely to look forward to coming to work.    
When women agreed they're treated as full members of the team, regardless of position, they were three times more likely to say they'll go the extra mile to get the job done.
How business environment can be impacted?
High-trust employers build institutional knowledge.
Tenure for employees — including women and members of underrepresented groups — was higher at every job level at the Best Workplaces.
More women lead at high-trust employers.
Among the Best Workplaces™, women held 48 percent of front-line and mid-level management positions.
True equity is evident day-to-day.
On a range of survey questions assessing employees' experience, scores at the leading employers were more consistent between underrepresented groups and their co-workers. These included views of compensation and favoritism.
Great organizations for women and minorities are great for others, too.
People of all backgrounds reported a better work experience at surveyed workplaces that earned high marks for equity.
Eligibility 
Any organization with a minimum of 10 employees.

Achieve a minimum of 70% Trust Index© score from the 60 core Great Place to 

Work® statements in each of the 5 dimensions.

Meet the minimum number of responses required to meet the statistical confidence 

level for the size of 

organisation

. This is determined by the total employee 

population size.

The organization has to have a minimum of 30% Women in the workforce.

The organization has to have a minimum of 20% Women in leading higher positions 

(Supervisor/Manager & Executive/Senior Manager)

Isolate the Female gender answers to the Trust Index© survey, the score 

should be above 70% in every dimension. +  

The organization has to score above 70% in the Inclusion index (12 specific 

statements). 

The organization should submit at least 5 unique practices for Women.  
Great for Women
Great for Others
"You can tell a lot about a company by how women feel about working there," said Great Place to Work® President Chinwe Onyeagoro. "When female employees say the environment is fair and fulfilling, that's a strong indicator that the business maintains an even playing field for other employees, too. It turns out that exceptional work cultures for women also produce outstanding workplaces for all employees.  Companies that lead in this way—by emphasizing the daily engagement and long-term buy-in of women—will see better performance from their teams and a stronger slate of leaders to helm their organizations in the future."​
"Fair hiring, pay and benefits are just the table stakes for retaining talented people. The Best Workplaces for Women stand above competitors by creating trustworthy organizations that eliminate gaps in employees' day-to-day experience. You can see the results in healthy, dedicated teams where all co-workers thrive," said Global CEO of Great Place to Work® Micheal C. Bush.