Great Place to Work® lead the industry with the most rigorous, data-based model for
quantifying employee experience: The Great Place to Work Trust Model™. Since 1992, we have
surveyed more than 100 million employees around the world and continue to use these deep
insights to define what makes a great workplace: TRUST.
Great Place to Work®是国际权威的职场文化与人力资源管理咨询公司。自 1992 年以来,我们已
经对全球超过 1 亿名员工进行了调查,并利用这些深刻的见解来定义出色的职场体验:信任。
We have in total 92 companies on the Greater China list this year with an average Trust Index
score of 89.3. This year, we have awardees coming from a variety of industries.
本年共有92 家企业上榜,他们的Trust Index 平均分为89.3,获奖企業也来自各行各业。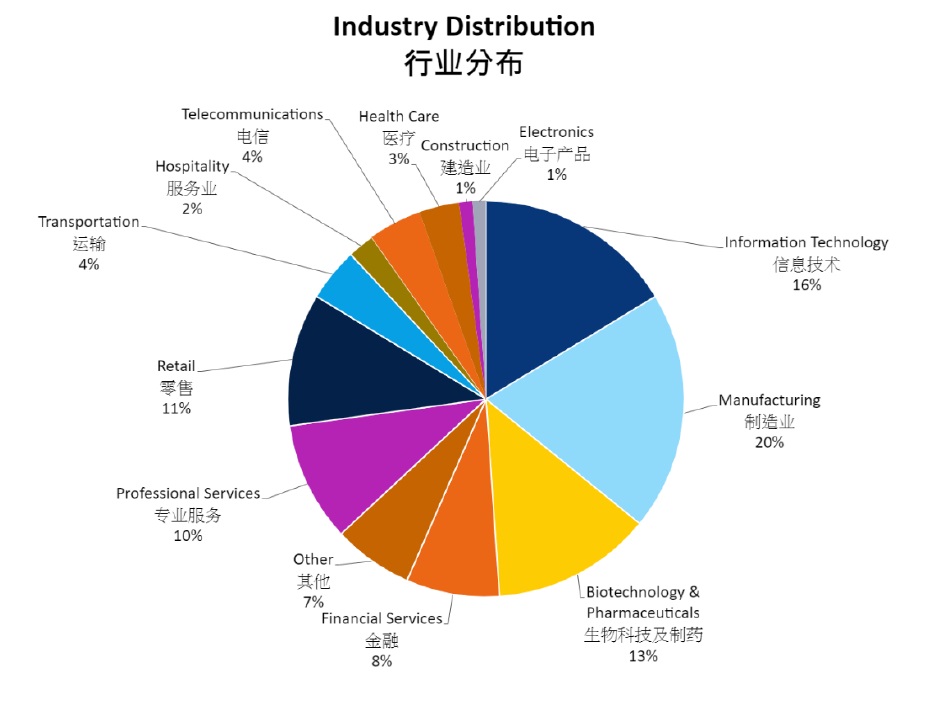 Our 30 years of continuous research has proven that the definition of a great workplace is
one where employees trust the people they work for, have pride in what they do and enjoy
the people they work with.
我们 30 年来的持续研究证明,卓越职场的定义是员工信任他们为之工作的人、为他们所做的工作
感到自豪、并享受与他们一起工作的人相处。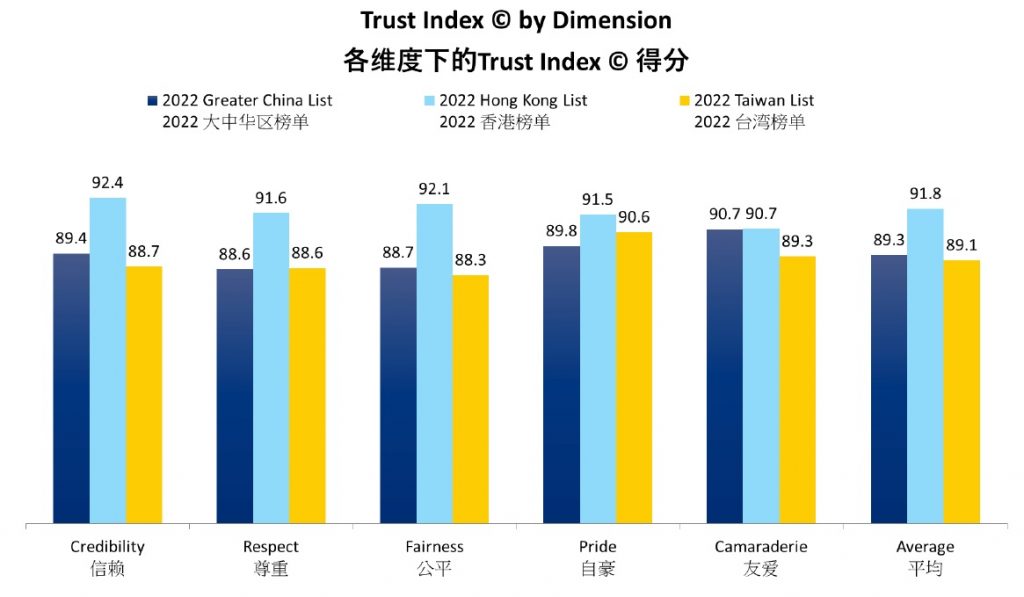 Much like any other relationship, the employer–employee relationship needs a foundation of
trust, and to thrive there must be a sincere sense of care and support.
Once employees have a consistently positive experience across key areas that contribute to
employee well-being, namely, mental and emotional support, sense of purpose, and
meaningful connections, they can flourish inside and outside of work.
与所有人际关系一样,雇主与雇员的关系需要信任作为基础,想要有健康正面的关系,必须辅以
真诚的关怀和支持。
当员工能在有利员工福祉的关键领域享受持续的积极体验,即心理和情感支持、目标感和有意义
的连系,他们就能在工作内外茁壮成长。
Managerial Effectiveness
Leaders at great workplaces understand that purpose is not found in a mission statement on
the wall or in a company handbook. Rather, they actively help employees connect the work
they do with the company's values and mission.
领导效能
卓越的领导者明白,工作的意义不是单纯在墙上印上使命宣言,或公司手册中放入字句。相反,
他们积极帮助员工将工作与公司的价值观和使命联系起来。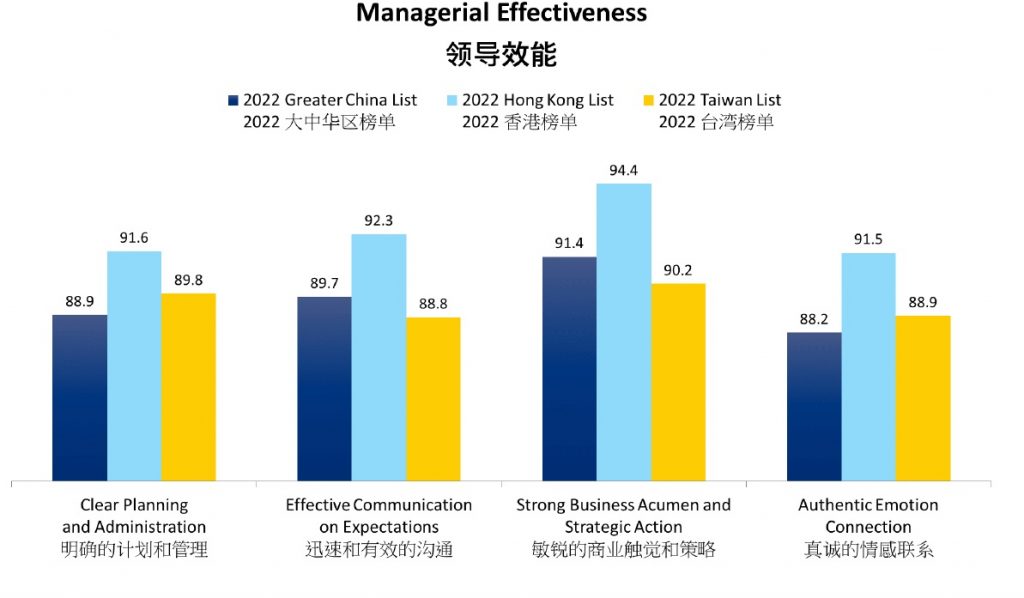 Innovation
Innovation is top of mind for executives today. But the term has evolved over the past few
years, taking on a new meaning as it has adapted with the pace of business amid ever-more
global commerce, rapid technology shifts, and massive market consolidation and disruptions.
Innovation now is as much about agility as it is about invention.
New ideas are the basis for growth and improvement at any company. To cultivate an
innovative culture, companies must instill the sentiment that all new ideas have merit, while
also providing honest feedback about both successful and unsuccessful ideas.
创新
推动创新是现今高管们的首要任务。在过去数年,随着全球商业模式改变、快速的技术变革以及
大规模的市场整合和颠覆,创新一词兼具了更多新含义,创新不单是新发明,也与企业的灵活性
有关。
崭新的想法是所有公司成长和改进的基础。为了培育创新文化,公司必须潜移默化所有新想法都
有价值的观念,同时对成功和不成功的想法都给予真诚的反馈。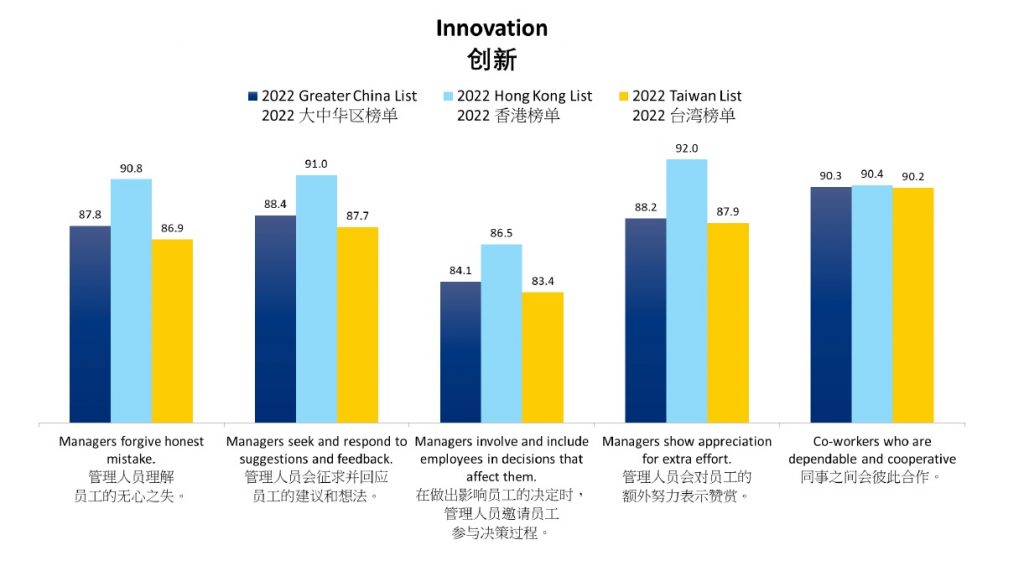 Creating Aspirational Workplaces
While COVID-19 has forever changed the way we work, Best Workplaces™ are stepping up to
support their employees. Going far beyond perks to create aspirational workplaces, they
foster a culture of:
• Inclusion
• Purpose
• Genuine listening
• Caring and empathy
Best companies worked hard to understand the current realities of their workforce, from
marginalized, hourly workers to white-collar desk workers.
Home life spilled into work life in unprecedented ways. Parents became homeschool teachers
overnight, many having to choose between their children and their jobs. Lockdowns led to an
alarming spike in domestic violence. Burnout raged and mental health suffered.
The Best learned to pivot and adapt to the workforce challenges of today. They took a holistic
view of workers to support their full lives, which includes their families, communities and
personal lives outside of work.
Most importantly, they took action. They focused less on broad policies and more on what
each person needed—in real, tangible ways. This transformed mental health assistance, elder
care support, childcare, and isolation support resources.
In recent years, researchers and companies have proved that a sense of purpose affects performance. It feeds employees' desire to be part of something bigger than themselves, and inspires innovation and better ways of doing things. Yet, creating purpose that connects with
everyone across an entire organization is easier said than done.
打造令人向往的职场
COVID-19 注定永久地改变我们的工作方式,但最佳职场™正在努力支持他们的员工。他们的努力
远远超越普通的福利,更进一步创造令人向往的职场,并深化以下的文化:
• 包容性
• 意义
• 真诚的聆听
• 关怀与同理心
优秀的职场努力了解劳动力的当前现况,不论是被边缘化的小时工还是白领。
工作以前所未有的方式入侵家庭生活。父母在一夜之间成为家庭教师,许多人甚至不得不在孩子
和工作之间做出选择。封闭隔离导致家庭暴力激增、职业倦怠肆虐、心理健康也受到影响。
优秀的职场学会调整和适应当今的挑战。他们以宏观角度支持员工的生活,包括他们的家庭、社
区和工作之外的个人生活。
更重要的是,他们采取积极的行动。他们较少聚焦在广泛的政策,而是以更真实和具体的方式,
深入地关注每一个人的需要。此举改变了心理健康援助、老年人护理支持、儿童保育和隔离期间
的资源提供。
近年,不少研究和企業也证明,員工對目的和意義的感知会影响业绩。意義能讓员工成就更大的
愿景,并激发创新和更好的工作方式。然而,要建立与整个组织中的每个人相联系的目的感並不
容易。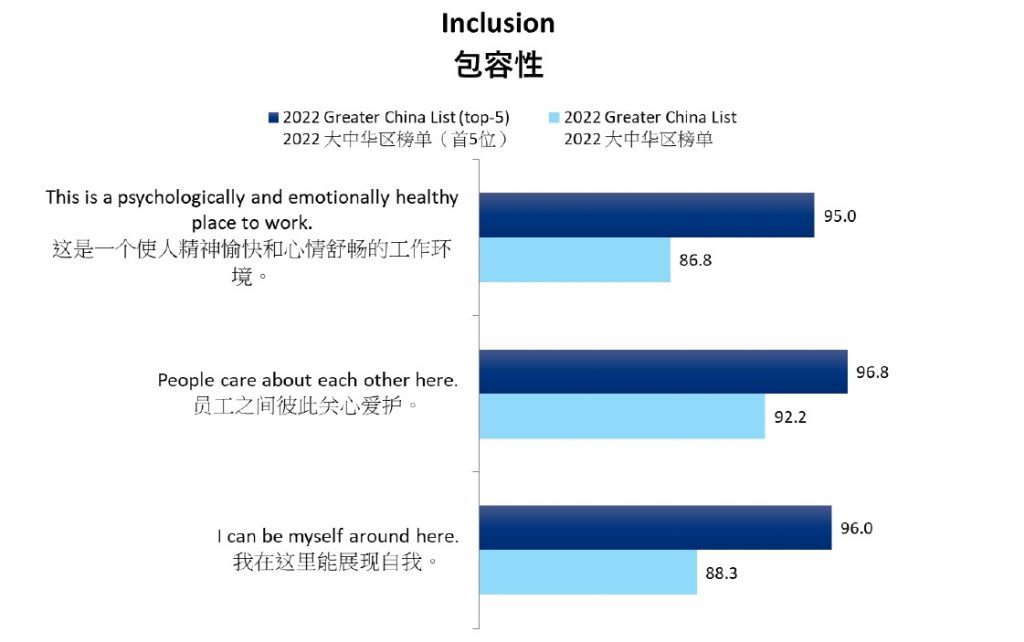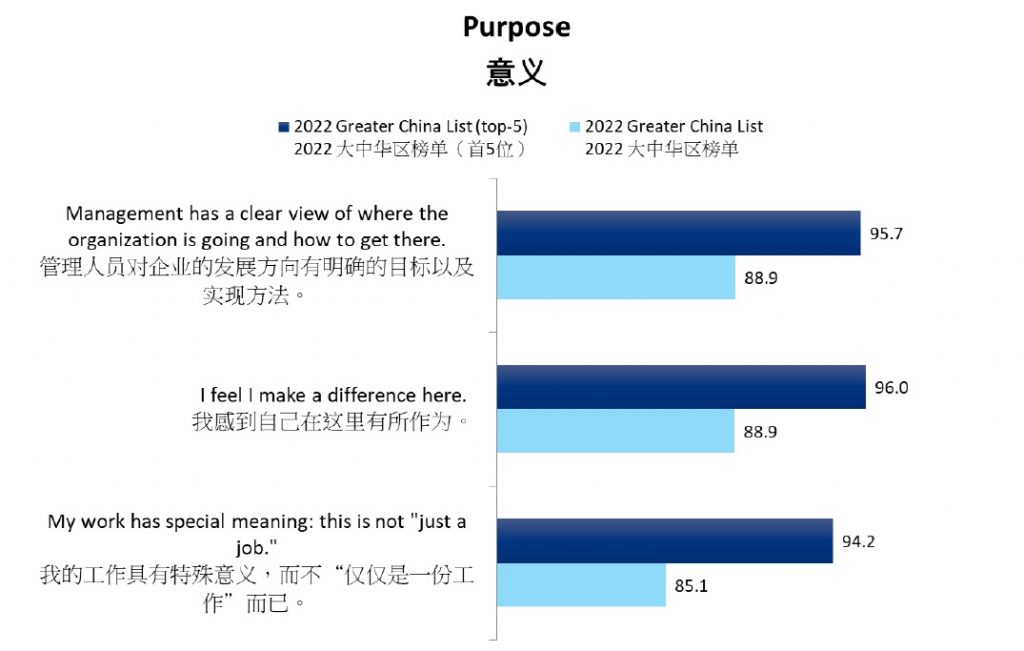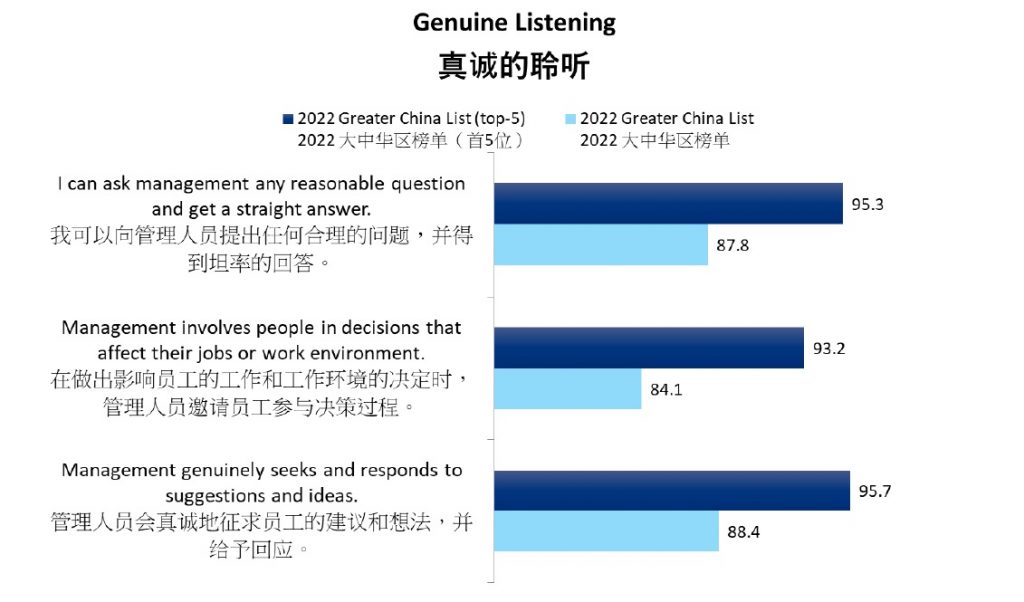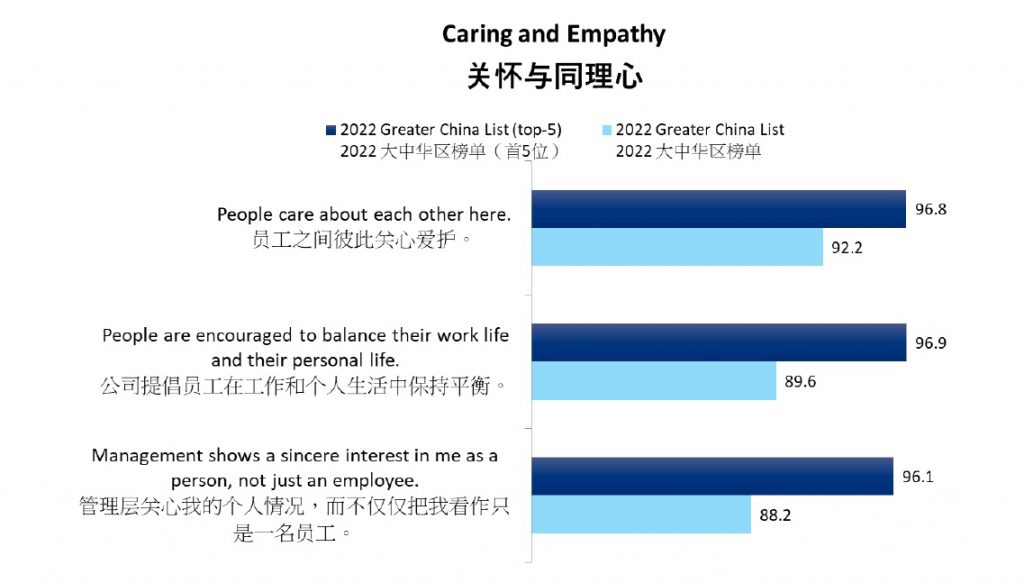 Productivity
During the recent turbulent years of Covid pandemic, so many things shifted place and the journey became 'jumpy'. The immediate reaction of the leadership was raising concerns as
to how all these changes will affect the morale of the people and its effect on productivity.
Smartly enough, and thanks to the trust-based cultures they are heading in their certified Great Workplaces, they didn't have a loss in productivity, but a sizeable gain instead. They took care of how they implemented the practices that were needed to adapt to the
restrictions. It's not only working from home, is how you facilitate the process of working from home, how do you support, keep them focused and inspired. This turbulence might be going
out, but very likely another challenge is on its way. What did you learn? Is your organization
ready?
生产力
在疫情肆虐的日子里,许多事情都发生了变化,旅程中高低起伏不断。领导层的直接反应是这些
变化将如何影响员工的士气及其对生产力带来影响。幸好,得益于卓越职场认证中一直倡导的信
任文化,最佳职场的生产力非但没有损失,反而获得了可观的收益。他们非常谨慎地对待所有疫
情下为适应限制而采取的新措施。这不仅是在家工作的问题,而是如何改善在家工作的体验,如
何提供支持,让员工保持专注。疫情带来的不安定终将写上句号,但下一个挑战正等着我们。您
学到了什么?您的组织又准备好了吗?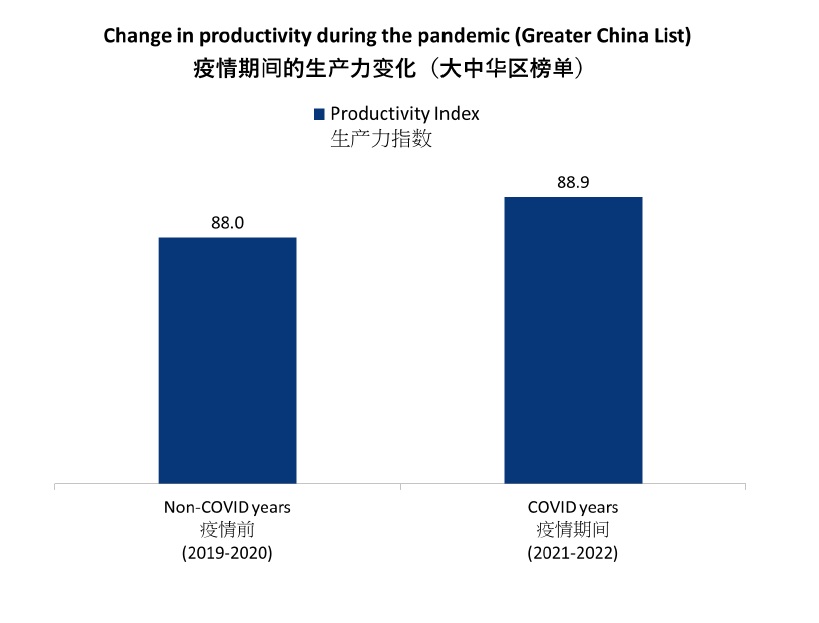 Strengths
The following survey statements reflect the strengths of the Best Workplaces™ awardees.
优势
以下是本年获奖者分数较高的题目。

Opportunities
Besides payment and shared profit, these statements reflect areas where employees see the
need for improvements.
发展潜力
除了常被提及的薪酬以外,以下题目的得分也相对较低。