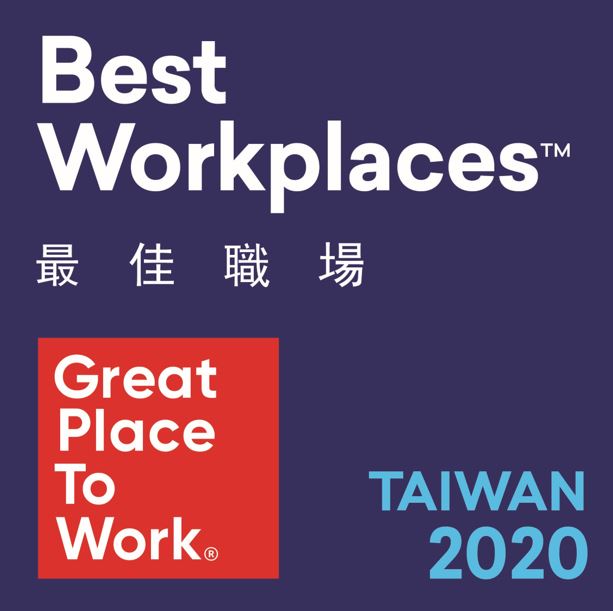 Best Workplaces in Taiwan™
Awards Ceremony 2020
7th September 2020
4PM Hong Kong Time
Click : ENTER EVENT /register at ZOOM
Introduction
Around the world, many have adapted to the change from working in the office to now working from home. Great workplaces are now extended to our living rooms, coffee shops and even bedrooms.  Our celebrations have also extended to knocking on doors to share the moment with the award-winning companies of the Best Workplaces in Taiwan™ this year. 
Great Place to Work® Institute is excited to present our upcoming celebration in September, where we will meet in the virtual world to recognize the very first batch of companies that have achieved Best Workplaces in Taiwan™ 2020 distinctions through the voices of their employees. 
The theme of the event is Better Together, where Great Place to Work® has been continuing its efforts to help all kinds of organizations around the world to navigate the uncertain future with their teams in this everchanging society due to the current situation of COVID-19. 
Despite the physical distance and that international travel has slowed to a trickle, we will celebrate in the digital world to honour the Best Workplaces in Taiwan™ virtually.  Join us and share the news with your friends, colleagues and families as we celebrate the many organizations on the list that are leading the way in demonstrating care for their employees, their customers and their communities during these challenging times.
We look forward to welcoming you to the event virtually.
Want to find out more? Stay tuned on our websites and social media channels as we will be sharing more next week.
Great Place to Work is the global authority on high-trust, high-performance workplace cultures that provides executive advisory and culture consulting services to businesses, non-profits, and government agencies in more than 60 countries across five continents. Through proprietary assessment tools, benchmarks and certification programs, Great Place to Work provides the expertise needed to create, sustain, and recognise outstanding workplace cultures. The Institute works with media throughout the world to select lists of Best Workplaces. In Greater China, we partner with Bloomberg Businessweek/China and Classified Post to publish the 'Best Workplaces ™' list. In the US, we work with Fortune Magazine to publish the '100 Best Companies to Work For®' list.
http://www.greatplacetowork.cn/  |   https://www.greatplacetowork.com.hk/
Official News Distribution Partner
PR Newswire, a Cision Ltd. Company, is a leading global provider of news distribution and earned media software and services.  In conjunction with Cision's cloud-based communications product suite, PR Newswire's services enable marketers, corporate communicators, and investor relations officers to identify key influencers, engage target audiences, craft and distribute strategic content, and measure meaningful impact.  Combining the world's largest multi-channel, multi-cultural content dissemination network with comprehensive workflow tools and platforms, PR Newswire powers the stories of organizations around the world. PR Newswire serves tens of thousands of clients from offices in the Americas, Europe, the Middle East, Africa and Asia-Pacific regions. https://www.prnasia.com/