Great Place to Work® releases its 5th annual list of Best Workplaces in Asia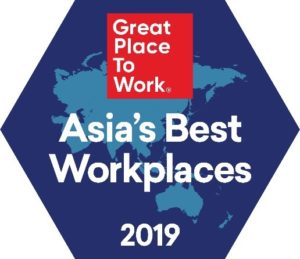 Hong Kong , April 9, 2019 – Great Place to Work®, global people analytics and consulting firm, announces the 2019 Best Workplaces in Asia list. More than 1,200 organizations participated in the survey process, representing the voices of more than 1.6 million employees across eight countries. These Best Workplaces know that treating all employees as equally-valued members is not just great for the people who work there—it's great for business, too.
These 75 companies are leading the way in creating workplaces that are great not just for some—but great for all. Top winners on this year's list include multinational shipping behemoth DHL, online streaming service Hulu, UAE retailer THE One, and multinational hospitality giant Hilton, to name a few.
Among the key finding across Asia's Best Workplaces we have found that they create an empowering atmosphere for women. In fact, companies that harness the great thinking and creative ideas from all employees (rather than only select groups) achieve greater levels of innovation and five-and-a-half times the revenue growth.
Find out more about the Best Workplaces in Asia list here:
https://www.greatplacetowork.com/best-workplaces/asia/2019
 "The 2019 Best Workplaces in Asia are leading the way with strong values and high inclusivity in creating Great Places to Work For All. We congratulate these companies for their global leadership in building outstanding workplaces that are better for business, better for people, and better for the world." – Michael C. Bush, CEO Great Place to Work®
About the Best Workplaces in Asia List
 Great Place to Work® identifies the top organizations that create great workplaces in the Asia and Middle East regions through publishing the annual Best Workplaces in Asia list. The list recognizes companies in three size categories: Small & Medium (20 – 499); Large (500+); and Multinational. To be considered for inclusion, companies must appear on one or more of our national lists in the eight countries represented on the list (Greater China, India, Japan, Saudi Arabia, Singapore, South Korea, Sri Lanka and UAE). Multinational organizations must meet the following requirements:  1) Have at least 1,000 employees worldwide, with at least 40% (or 5,000) of those employees based outside the headquarters country and 2) Appear on at least two national lists.  Multinationals also receive additional credit for their efforts to successfully create an excellent workplace culture in multiple countries in the region.  The data used in the calculation of the regional list comes from national lists published in 2018 and early 2019.
About Great Place to Work
Great Place to Work®, headquartered in Oakland, California, is a global people analytics and consulting firm that helps companies of all sizes produce better business results by focusing on the work experience for every employee—our research shows there's a clear and direct relationship between employee engagement and financial performance. Over the past 25 years, we have captured the views of more than 100 million employees globally, helping organizations around the world identify and build high-trust, high-performance cultures. Through our certification programs, we recognize outstanding workplaces and produce Fortune's annual list of the 100 Best Companies to Work For, as well as a variety of other Best Workplace rankings in the United States and in more than 60 other countries. Everything we do is driven by our mission: to build a better world by helping every organization become a Great Place to Work For All by the year 2030.
MEDIA CONTACT: maggie.yau@greatplacetowork.com                  
ABOUT US: https://www.greatplacetowork.cn/